I thought I would take today to update you guys on some new templates in the shop, because my psychic abilities are telling me, "You need a new template installed right away...!!" (Am I correct?!?)
As you may know, I do offer custom blog designs over in my design studio Social&Chic, but since I work a full-time job and can only work on designs after work, I am starting to venture more to the template side of blog designing. I of course still offer the full custom blog design option, but templates are really a win win for everyone, because they are way less expensive and it comes with free installation! I can do installations in my sleep, they are kinda like doing math, once you do one, you've got the formula to do a million with ease, but I can't design from scratch in my sleep. That requires a lot of time and second guessing myself. So voila... templates for the win!
I showed off the first six templates I began offering in this post, but I've added a few more since then. I'm also very willing to discuss changing any color combinations for you, free of charge.
Slide it to the Left Blogger Template
::: FEATURING THE VERY POPULAR IMAGE SLIDER! :::
Great for fashion bloggers wanting to showcase their favorite photos.
// Click to view this template in action //
// Click for pricing and to purchase //
Yellow Rescue Blogger Template
// Click to view this template in action //
// Click for pricing and to purchase //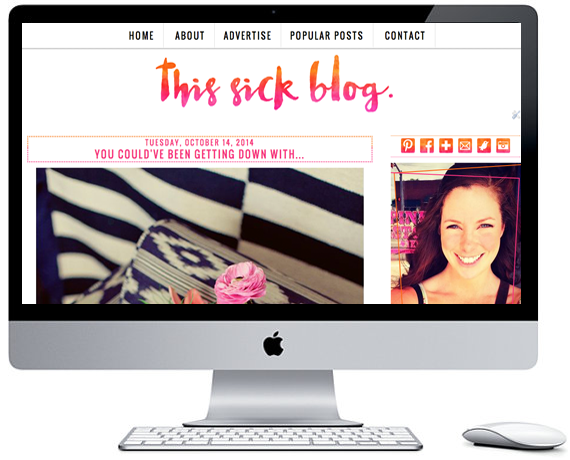 This Sick Blog Blogger Template
// Click to view this template in action //
// Click for pricing and to purchase //
The Happiest of Hours Blogger Template
// Click to view this template in action //
// Click for pricing and to purchase //
I also have a few prints for sale in the shop as well. They are all 8x10 prints on 110lb matte paper. Click each image to view directly in my Etsy shop!
The last print shown, the team print, will be customized for your favorite teams, and comes in two options: 16x20 poster or an 8x10 print. You will be able to review a mockup before it goes to print!
And for those of you that follow me on instagram, and were asking where I got my phone case, it can be found in my spreadshirt shop, here!
While we are on the topic of Etsy, check out my besties brand new shop launch (just as of this week!!) Texas Forever! She has the cutest T-shirts, all priced perfectly, for everyone from the Texas dweller to the wine-o! Because, wine. Or, Wine Not? as Helene would say!
Let's just keep spreading the blog-land love shall we? I've got my girl Rachael back today! Last time she came over for a visit, we did a quick little QandA, but now she is back with a little more info about what it is like being an American in China! Heck, and here I thought I moved far when I left Knoxville for Dallas.....
-----
Hey girl, hey! It's Rachael here from The Rachael Way. On my blog you'll find details about my expat adventures, life in China, dating disasters, blogging tips and tricks and those real and authentic posts that (hopefully!) you can relate to.
As mentioned before, I am currently living in Shanghai, China teaching middle schoolers what a noun is and how to read a map (read: English and Geography). My experience here has been nothing short of amazing, and for the most part, the transition has not been too difficult.
I want
| Walmart |
I mean, it's weird in the US right? You have to check out my post to really see what Walmart in China is like!
| Split Pants |
It's just like what it sounds... instead of wearing diapers, (some)
babies have split pants, which means there is literally just a "split"
down the crack so they can pee in the streets #nojoke
| Traveling |
So far I've only made it to Beijing, but I have plans to visit
Thailand, maybe Tokyo, and other parts of China! And yes, the
Great Wall rocked.
| Adorable Asian babies |
Hi, my name is Rachael, and I have a problem of taking pictures with adorable Asian children. It's not seen as creepy to wave to them and say "Ni Hao!" and take a picture with them. At least I
haven't gotten in trouble yet. What can I say, I like to live on the edge. Want more from me? (you know you do!) Come say hi or tweet me!