Happy Friday errrrybody! Although it has nothing to do with today's post, I very much enjoy this picture CB took on the way to the ACM festival last Friday. I'm ridin round and I'm gettin it.
#DropTheMic .... errrr .... I mean, #DropTheWaterBottle
Now, on to the post du jour! Mmm that sounds good I'll have that.
Yup, that's right, I'm doing it again because there might be an important playoff game tonight.

Now, I've only been to Houston once, but that is 100% more times than I've been to both Iowa and Detroit combined, and I managed to come up with things to love about both of those places!
Sooooooo....
// Reasons Why I like Absolutely Freaking Love Houston and You Should Too //

1. Craig Biggio's helmet
(yeah, something is wrong with me if that is the first thing I thought of)
2. Beyonce
3. They help people with problems
(get it get it??? Houston we have a problem????? meh.)
4. The New York Times calls it "One of the Most Exciting Places to Eat"
(BUT -- The NY Times clearly has never been to Medieval Times)
5. The Houston Rodeo
(yee haw!)
6. The Astros often take the last spot in the AL West so the Rangers don't have to
7. Patrick Swayze
8. Whitney Houston
(she's actually from NJ but she's a reason to love the name "Houston")
(and yes I'm reaching, I don't know much about Houston)
9. Jennifer Garner, my sorority sister, was born there
10. 1/3 of the city is provided 24 hour shade by James Harden's beard
11. You live in constant fear of JJ Watt eating you
(wait, maybe that is a con...)
12. There is a house completely made out of beer cans. "Some people say this is sculpture but I didn't go to no expensive school to get these crazy notions." –John Milkovisch
(That is a quote from the beer man house creator, himself. So eloquently put, sir.)
13. One item in one of their museum is a 27-and-a-half foot intestine
(Yuck. Anything longer than 27, and I'm grossed out)
14. They have a mascot cemetery
( ¯\_(ツ)_/¯ )
15. They are home to the National Museum of Funeral History
(wtf Houston?? Side note: I wonder if Phaedra know this info?)
16. They have a 7 mile underground tunnel downtown.
(I really dig that.........)
17. They are the most awarded female artist of all time
(Oh wait, that's Whitney again, my bad)
18. I went there once, for one night
(was cool)
19. Sir Mix A Lot once spotted two bad ass girls in a tercel,
then u-turned because they were going to Houston
(really reachin here. reeeeeeeally reachin)
There you have it. 19 reasons I love Houston and you should too. That should do the trick.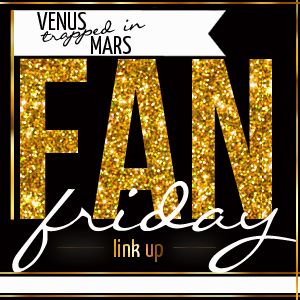 Write a post about anything listed here
Grab a button. (It's glittery, would you have expected anything less?)
Link up EVERY FRIDAY FOR THE REST OF YOUR LIFE
Follow me so we can be friends
Meet new friends who also like sports and being a fan
Hop, hop, hop.... hop around.