I don't believe it.
Let me say this again....
I. Do. Not. Believe. It.
The Victoria's Secret NFL collection was released, and after years of horrid crap crop (a little crop top humor, no?) they finally released a great collection!
I. Do. Not. Believe. It.
No stupid sayings? I don't have to be anyone's halftime show this year? No announcing that I'm "playing the field" or asking that someone "tailgate with me" via my t-shirt? No crop tops?! Like, what?
I'm just going to narcissistically throw this out there.... they read my buzzfeed article.
I'm just so proud of you guys right now, VS! Maybe go ahead and send me some free gear for the suggestions?! For my troubles? For making this sweet collage that will become Pinterest Famous? Please? You can go ahead and email me right here. #Mmmmmkthnxs
Today I was going to have a big Fantasy Football League announcement, but the details are not 100% finished. I'm at about 83% done, so alas, this big announcement is going to have to wait until Monday! It will be worth it though, I promise. The hosts I have on board already (hint, hint) are going to help me rock this year's blogger fantasy league. I also have a couple other hosts up my sleeve....
So since I dropped the ball, so to speak, on the fantasy announcement today, I'll instead leave you with some images from the fab night Helene and I had last night! She was the guest speaker at the Southwest Blogger Society's workshop last night, and totally rocked it! We then promptly galavanted around Deep Ellum, conveniently enough where the event was held, and Helene toured my new digs!
We then took some selfies on my balcony at the new apartment, because why not right? Note to self, gotta work on finishing unpacking so I can post pictures on the blog!
Then Veenie and I showed off to Helene our sweet tricks, high fives! Yes, I have my pajamas on, no I did not wear them in public (that night at least).
Oh, and just to close with a couple of Things You Need to Know Before you Go:
1. Welcome back NFL! Preseason started last night, and even though the majority of our favorite boys don't get to play, I sure love seein ya back in uniform.
2. The PGA Championship started yesterday and continues through the weekend. Golf is the best sport to watch in the summertime. Pick a golfer to root for, may I recommend Sergio Garcia? Sergio isn't exactly the most loved on the tour, Rory is and would be a good bandwagon to join. But if you want something a little prettier to look at try Adam Scott.
See y'all Monday, promise we'll talk Fantasy!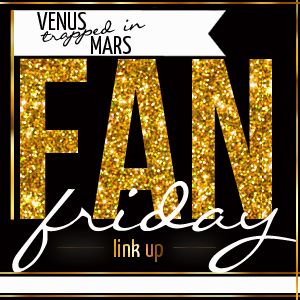 Write a post about anything listed here
Grab a button. (It's glittery, would you have expected anything less?)
Link up EVERY FRIDAY FOR THE REST OF YOUR LIFE
Follow me so we can be friends
Meet new friends who also like sports and being a fan
Hop, hop, hop.... hop around