It's time for this month's Total Social with me and
Helene
!
Topic: Guilty Pleasures
Official Hashtag: #GuiltyTotalSocial
Link up with us, across all social media platforms including blog, twitter, facebook, insta, pinterest etc., and tell us all about your guilty pleasures!
For more details about #TotalSocial check out
this post
!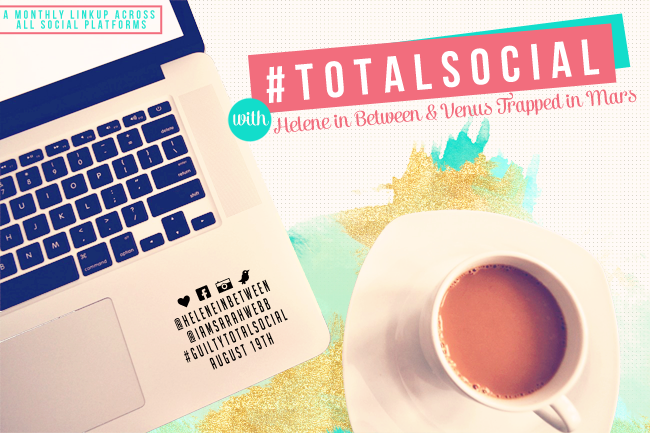 1. Peter Griffin's Instagram account
2. Hair Care infomercials you promise you'll give me Victoria's Secret curls, from wet to dry in under 20 seconds? Oh Sure, I'll watch you stick your hair in a whirlwind bin for 30 minutes. If I call now, will you give me two? I can't tell you the number of times I wish I had not one but two hair whirlwind bins to use... Ok, but really, I want to just try this so bad. #GuiltyPleasureProbz
3. Taking pictures of my dogs oh but, she looks so different at this angle. Ohhhh look at him now. Dawwww how precious, must document. He blinked he blinked... snap snap snap. Must take all of the pictures, save to my camera roll, only to be deleted when a new iPhone update is available!!!!!! ALL THE PUPPY PICTURES!
4. Stalking the insta accounts for everyone that You Did Not Eat That links to ok but, don't mind me I'm just going to spend several hours scrolling through this 12 pound super model's insta pics from the last 48 weeks. But whyyyyy are they so prettyyyyyy and i'm so uglyyyy whaaaaaaaaaa :(
5. Bravo duh, a given. Team Ryan. Sorry not sorry, not even guilty at all.
6. Koozies I just can't not buy them.
7. Rangers tshirts from the workout section at TJ Maxx
Rangers shirts for only $12.99? I just can't not buy them.
8. Groupon I bet I'll want to paint those wine glasses on the selected Tuesday of my choosing for half off *must supply own wine glasses. Limit one per customer. Must be a new customer. You'll never use this groupon by the time it expires, sucker.

9. Promises to make my hair straight your $300 Brazillian Blowout will make my hair straight for 26 minutes?!?!? Here is a blank check with my name on it, please take everything I have.

10. Wine glasses ok but, I only have 4 with this EXACT shape. What if I have 8 people over one day? Then what?!? Give unmatched wine glasses?! *note to self, make 8 friends in Dallas.
11. Planners in the year 2013, I purchased 9 planners.
12. High Fives or, even better, double high fives! Also, dog pictures.
13. Pictures of nothing Obsessed doesn't begin to describe how much I love pictures of absolutely nothing via Pinterest and Instagram. Brownie points if there are any rips in the jeans...
And for number 14, the one that everyone may hate me for...........
14. The Worst Fashion Blogging Pictures thread on GOMI. There, I said it. But really, that thread is just so entertaining it leaves me happier than if I had a slice of calorie-less pizza sitting in front of me! I'm sorry, GOMI is nothing to joke about (hah).