Before I get into the big announcement du jour, (that's the announcement of the day-- ahhh that sounds good I'll have that) I wanted to discuss the importance of being a good note taker.
We have been trained to take thorough notes since we learned cursive in second grade. That brings me to a side point, does anyone use cursive, ever? Rurruto?
Ok, well try buzz.
I'm full of the movie references today, huh? Ok so we are told to take very thorough notes since second grade, right? Then in high school and college the more detailed your notes are, the better you will do on the tests right? I used to take such detailed notes that I left class looking like the butler in Scary Movie (movie ref 3).
But nowadays, I take notes just so I won't forget
my own
thoughts. Horribly depressing, really. Yesterday I did day two of couch to 5k and as I headed downstairs, realized I forgot to put the
fitbit
I got from
Staples
on. So I went back up four flights of stairs with both dogs, fed the dogs, gave them both water, messed with my
Spotify
playlist, then grabbed the dogs and headed back outside. I then realized I forgot the fitbit again, so I headed back up 4 flights of stairs.... 27 going on 90.
When I have a blog post idea, if I'm near a computer I'll usually make a draft post in blogger, or if I'm not near a computer I'll email myself with the subject line "new post" so I can easily find it again. A couple of days ago I was searching my inbox when I came across this email I sent myself...


If you are having a hard time reading that, it says,
"How to inevitably destroy your blog in one easy step."
WTF is the step, Sarah!!?!?!?! You idiot!!!!!!!!!! You blew it!!
(movie ref 4)


So I have been racking my brain trying to remember this "easy step" that will destroy your blog, for about 48 hours straight now, and I have no idea what the step was. So the lesson today, my friends, is to take thorough notes. Who knows, this could have been a game changer for
Saturday Sessions
. This could have made my
Pinterest Famous
dreams come true. But alas, we will never know what the
ONE STEP
is that will
DESTROY YOUR BLOG.
Dumb, loser
.
---


On another, much more positive and descriptive note (pun intended), guess what next week is?!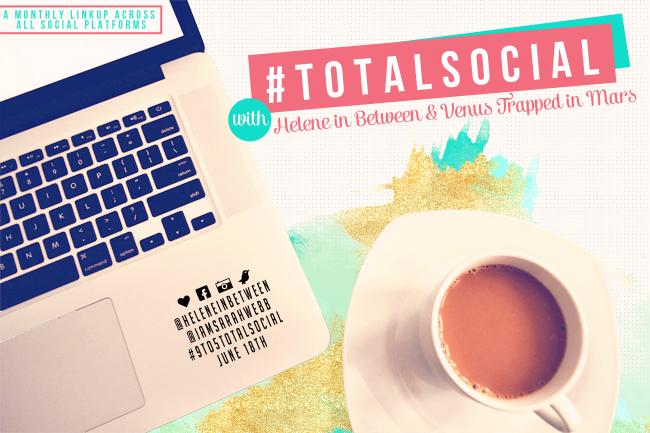 It is time for the second installment of #totalsocial!
Helene
and I are announcing the next
Total Social
linkup! Here are June's details:
Date:
Wednesday, June 18th
Topic:
"My 9 to 5"!
We want to know what do you do for work, or during the day, what's your role? We are
always astonished how people can blog and work or have kids etc. So, we want the details- What's your 9 to 5? Or feel free to get creative, maybe discuss what your dream 9-5 would be!
Tell us using the hashtag:
#9to5TotalSocial
Via blog, insta, facebook, pinterest and twitter!
For more details on exactly what #totalsocial is go
here
Or for my first total social post (#firststotalsocial) go
here
And remember,
CAREFULLY WRITE THIS DOWN SO YOU DON'T FORGET!