Here is a fun fact about my work travels. Every time I return home from a work trip, something is wrong with my car. There was the time I had the flat tire, oh and that other time I had the flat tire, and then there was that time I had 2 flat tires! Then there was that fun time when the car wouldn't start, loved that. And yesterday I arrived home to a car that was leaking transmission fluid! Fun! But wait, there's more, after spending the morning at the dealership, they informed me that I had not one... but TWO leaks as well as a crack that has been gradually expanding in the exhaust pipe. Oh and that I needed to replace all 4 tires immediately, change the coolant fluids and there was a dead bird and dead rat that had destroyed the air filters.

Oh.
You're probably thinking, what kind of POS does this chick drive. Well, let me
refresh your memory
, go ahead, I'll wait.
Dooo Dooo Dooooo Do Do Do DO DOOOO. Do Do Dooo Do DO. Do Do Do Do Do. Dooo Dooo Dooooo Do Do Do DO DOOOO. Do...Do Do Do Do Do...Do.....DO.
Ok well it isn't a Mercedes or anything, but it is a very nice car, fully loaded with all the bells and whistles plus was supposed to get great gas mileage (not).
I had planned this great post for today, but now I am in no mood. I wanted to go on a rant about LeBron and his heat issues, pun intended I guess, but now I just want to sit here while I wait for my car for the next 1-7 hours and pout. BAH HUMBUG.
HAPPY FAN FRIDAY y'all! I'm not wasting a fan friday on something I am not a fan of, so I want you guys to meet
Lindsay
instead. I totally adore this fab and fashionable new momma, who is in fact, approaching her daughter's first birthday! It takes a very special person to get me to
collaborate
on a fashion post, but she was able to do it! Today we've collaborated again, this time with an interview style guest post!
Q1: Tell us about your blog - why the name? When did you start blogging and why? What do you love to blog about?

A:
Pursuit of Pink was created because I wanted to add a little bit of positivity to an internet that can too often be negative and unforgiving. I keep things happy and blog about things that make me smile – personal style, recipes, my 11 month old daughter, my family, fun products, and of course the color pink! My friends were always asking me where I got my accessories and beauty products from so I figured, why not share those finds with other inquiring minds as well.
Q2: As your baby approaches her first birthday, tell us something about motherhood you really weren't expecting over this last year.
A:
Wow, there are so many things that caught me off guard or that I wasn't expecting about motherhood, but the one thing I NEVER expected out of me – an extremely girly girl – was that I would pick my daughter's nose. Yep, you read that right. I will stick my pinky finger nail into her nose and pull out the good stuff when a tissue won't do. Motherhood has definitely taught me not to be too scared of the gross things; spit up, dirty diapers, food all over the place, it's just part of the daily routine around here.
Q3: You probably have approximately 17.3 million photos of sweet Baby K, but show us your favorite.
A:
This right here, because my daughter has a better closet than I do! And I just can't get enough of that sweet little face.
Q4: If you could only get one type of candy for the rest of your life, which one would you pick?
A:
SweetTarts would be the winner. I often forget how much I love them because they aren't a candy you frequently find at the grocery store checkout, but every single time I have them I always want more, especially the pink (imagine that!). If we buy a box of SweetTarts there is a high probability that my husband won't get any.
Q5: Which form of social media do you use the most? (and link us please so we can follow you!)
A:
I just can't quit
Instagram
.
Q6: Which celebrity's closet would you raid? You post great outfit posts, is there any celeb whose style you mimic or all you all Lindsay all the time?
A:
If I could raid Kate Middleton's closet, I would do so in a heartbeat. The Duchess looks amazing all the freaking time. But I guess I need the stylist, hair and makeup people to come with the closet, huh? Reese Witherspoon is one of my favorite celebs and I simply adore her style. Her dresses for awards shows are always my favorites and I love her simple, classic and chic style. Oh and Cori from
Dress Corilynn
is another person who's style I am obsessed with, she's so fab.
Q7: Direct us to a favorite post or two you've written.
A:
Surprisingly a post that I wrote during my first few weeks of motherhood is one of my favorites of
all time
. And
this
is still one of my favorite outfits.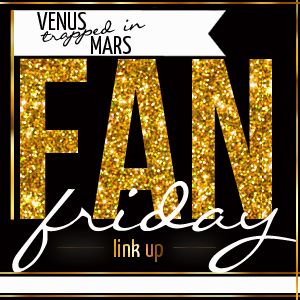 Write a post about anything listed here
Grab a button. (It's glittery, would you have expected anything less?)
Link up EVERY FRIDAY FOR THE REST OF YOUR LIFE
Follow me so we can be friends
Meet new friends who also like sports and being a fan
Hop, hop, hop.... hop around