So I've totally had this post ready to go since before Fantasy Football season even started, unfortunately as it turns out, I'm terrible at Fantasy Football. I started out the season 0-4. I'm a frauuuuuuud!
I didn't feel right posting advice on how to win fantasy football games seeing as I couldn't seem to win. Well, guess what? Your girl finally won a game. So voila, I get to post this! Use at your own risk, because what the heck does the 1 and 5 Romosexual know?
1. Use the green / yellow / red indicators when starting / sitting players you're unsure of
I have only played fantasy with yahoo, so I apologize if you have ESPN or another program you use to play fantasy. In yahoo, the team your player is playing will be listed in green, yellow or red.
When you hover your mouse over the team name, you'll see extra information about why they are statistically a good (green) or a bad (red) start against that opponent.
As you can see, Romo is a good start for me this week since the Redskin's defense tends to give up a hefty amount of points to opposing quarterbacks. Now be smart here though, if you have Drew Brees don't sit him and start Eli Manning instead just because Brees is playing a tough defense. Perhaps use this tool when deciding between two players that are projected the same amount of points for the week.
2. Pick up a defense based on the offense they are matched up against each week.
I add and drop defenses each week. I didn't draft a great defense because I intentionally left it to the second to last pick of the draft. So each week I go in and see which available defense is playing a very week offense. I add that defense and drop the defense I had the week prior. Again, if you have an incredible defense, like Kansas City, don't drop them just because they are playing a strong offense this week. Be smart!
3. When searching for new players, search by Actual Rank (not Projected)
When you do a search for available players, it will automatically filter based on their pre-season projected rank. Be sure to switch that to actual rank instead. Otherwise you may start picking up guys who are on IR for the rest of the season.
4. Flex position
Many leagues have a position called the flex position or the W/R position. Miss
Whitney
asked me about this a couple of weeks ago. So I'll tell you guys what I told her.... A running back
will likely get you more yardage and red zone opportunities than a wide receiver. If I have a running back available, I'd start him.
Not to mention, the quarterback has several wide receiver targets on the field he can throw to at any given time. With a running back, you usually just have one guy that carries most of the load.
5. Don't hoard pointless players
On your bench, you don't need more than one kicker, you don't need more than one tight end and you don't need more than one defense. If any of those players have a bye week, just pick up a temporary replacement and drop one of the wide receivers or running backs on your bench that you can live without. No need to hoard multiple defenses!
But what do I know, I'm 0-4.
I mean 1-5.
Whatever.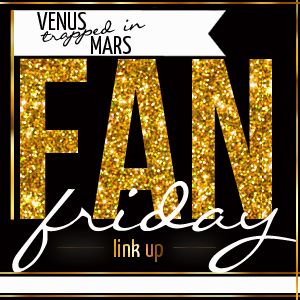 Write a post about anything listed here
Grab a button. (It's glittery, would you have expected anything less?)
Link up EVERY FRIDAY FOR THE REST OF YOUR LIFE
Follow me so we can be friends
Meet new friends who also like sports and being a fan
Hop, hop, hop.... hop around