The color red doesn't dominate my wardrobe by any means. I only have a handful of red items including a cardigan and a red dress. My t-shirts have a splash of red here and there, but for the most part my collection is dominated by Tennessee Orange, and different shades of blue for the Cowboys, Rangers, Braves and Mavs.
Like most women, I tend to think I have nothing to wear. As I went to my closet this morning I flipped through every last thing I owned and for some reason put on the one solid red dress that I rarely wear. As I was driving to work this morning, I heard on the radio that it was
National Wear Red Day for Heart Disease Awareness in Women
. I chuckled to myself and thought, hah! Funny I should pick this dress, that I never wear, today of all days.
Without red surrounding my day-to-day wardrobe, I forget about the color red. I forget that there is a red scarf rolled up in my scarf organizer, I forget that I have a plaid shirt that is equal parts red as it is black, I forget that I have red tights that I always wear on Christmas Day, I forget that red is as dominant of a color for the Braves and Rangers as blue is. You forget about red until it is right in front of your face and you're like, "Oh yeah, I do have red!"
Going forward, I want to do a better job of remembering red. Red in this scenario actually meaning heart disease. We do all these things to monitor breast cancer, but what are we (what am I?) doing to monitor heart disease, the number ONE killer in women. The best thing you can do is bring awareness through the color red. Because guess what, red is in your life, whether you realize it or not. And just when you aren't thinking about it is when it will pop up, just like it did for me today.
So my Fan Friday post today is dedicated to the color red! Do you realize just HOW MANY TEAMS have red in their logo? I think you'll be as surprised as I was.
Major League Baseball (MLB) - 15 out of 30 teams. Half of the teams wear red!
National Basketball Association (NBA) - 13 out of 30 teams
National Football League (NFL)- 12 out of 32 teams
National Hockey League (NHL) - 14 out of 30 teams
So out of all of the teams in the four major sports leagues, 54 teams wear red. That's 44% of all teams! Crazy how much red there is out there, isn't it?
Man, Taylor really does have a song for every occasion doesn't she?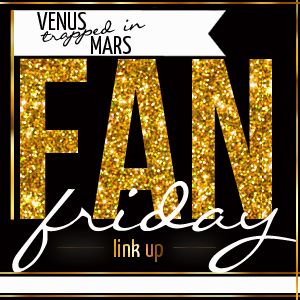 Write a post about anything listed here
Grab a button. (It's glittery, would you have expected anything less?)
Link up EVERY FRIDAY FOR THE REST OF YOUR LIFE
Follow me so we can be friends
Meet new friends who also like sports and being a fan
Hop, hop, hop.... hop around