Now I generally won't listen to advice people give me. I do what I want and I am very stubborn. Your tips probably would help me immensely, but please refer to the previous two sentences. This includes but is not limited to:
If you follow me on
Instagram
you may know that I have teamed up with
Weight Watchers
to review their
simple start
program. Since I am only a week into the two week program, I'm not here to fully review the program
just yet
. What I am here to talk about today is the aha! moment I've recently had.
So my very first Weight Watchers meeting (which was over 2 months ago and I'm still going strong, yay!) the leader was talking about "putting the fork down."
I sat there thinking: "Yeah yeah yeah. Put the fork down. Whatever. Not gonna help."
I knew that it wouldn't work for me. I would feel the same whether I ate my food in 2 seconds or took 2 hours, and that feeling was.... "I'm still hungry." So I let the leaders words go in one ear and out the other.
You know what totally sucks about changing to a healthy eating lifestyle? (P.S. I'm not saying the word diet, that is a no no! Except I just said it and now the martians are going to get me, but it was a simple misunderstanding and I'll clear that up with them when they arrive).
What SUCKS about being healthy, is that you never have that
Crap. I. Am. Freaking. Stuffed
Feeling. I adore that feeling. I LOVE feeling that stuffed (pun intended) crust pizza rolling around in my belly, I love picking up one last chip with cheese slathered all over it and thinking... "Is there room for this?! I don't know but I sure can't wait to find out!"
You never need to unbutton your pants, you never need to worry if that last bite is going to be the bite that leaves you paralyzed to the couch for the remainder of the day. These are not concerns when you're being healthy.
As I'm sure you guessed, and have been patiently waiting, I have a point.
The other day I was at Chipotle and ordered a burrito bowl with black beans and brown rice and chicken and salsa and lettuce and corn and fantastic deliciousness... all of that for only 12 points.
I was on my hour lunch break, and if you're anything like me you use every second of that hour lunch break that has been allotted to you. So I sat down took a couple of bites and flipped through my twitter feed.
Then I took a few more bites, put the fork down and flipped through my Instagram feed. After about 10 minutes of that, I took a few more bites and remembered that I was a living, breathing 27 year old who hadn't yet taken a picture of her lunch and posted it for all social media channels to see and drool over.
So I took another bite, then positioned my fork in the bowl to make it look artsy, moved my drink to the right so that you could see the Chipotle logo and began the covert operation of taking a picture of my food and not letting everyone around me realize that is what I was doing.
I snap 18 pictures as fast as I can in hopes that one will be appealing. I take a few more bites then spend 15 minutes deciding if I want to use Walden or Amaro filter (we all know I'm going to go with Amaro every time, let's be real here).
After the heavy hitting filter debate settles, I hit post and smile when I finally get a like and realize my hard food photography work has paid off.
I then settle in to finish the remainder of my food, while occasionally checking to see who is jealous that I am at Chipotle.
My hour has come to an end, I get up, throw my food away, get in the car and realize.... holy crap I am stuffed. Like full. Like uncomfortably full. Like I wanted to take my pants off. What a great feeling that was.
How did that happen? Did I eat a ton of food? No. Did I eat unhealthy? No. Did I stay in my points? Yes. Why am I so full.
Aha! I put the fork down. I didn't go elbows up with the burrito bowl like the barbarian I sometimes pretend to be. I put the damn fork down and look what happened. I got FULL. I was on something we aren't going to call a diet, and I got FULL.
So, next time you sit down to eat, just try it. Put the fork down. Fidget with your phone, read through my old blog posts (just a suggestion), phone a friend, take a picture of your food, make fun of people's grammar on Facebook, look at the popular page on Instagram and speculate how that no-name 14 year old has 1.8m followers.... let me know what happens.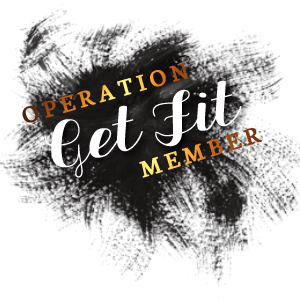 I was given a free one month membership by weight watchers and a smart phone to track my progress, but this post and these opinions are totally my own!