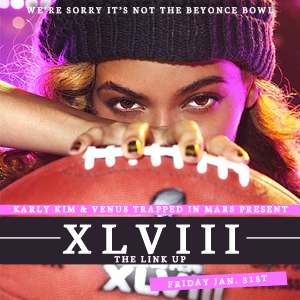 XLVIII Link Up: Presented by my girl
Karly Kim
and yours truly!
(Shameless plug: I redesigned her blog too, you should check it out)
God y'all I really need to get another picture of me throwing the football. This one is played the F out.
So I told you guys I would
vlog the answers to the questions you asked in
last week's
Fan Friday post. Yeah well, I was also told that Santa Claus was real and look how that turned out. You shouldn't believe everything you're told, kids. You're just setting yourself up for disappointment. But if you want to see the one vlog I've ever done, it is 11 seconds long and located
here
.
Q1: Kelli - Can the Super Bowl end in a tie? I'm guessing not, but what are the OT rules for the big game?
A1: Brace yourself for this statistic, but NO SUPER BOWL HAS EVER GONE INTO OVER TIME! Whoa, right? But in the event that you witness the first OT in Super Bowl history, no it will not end in a tie and here is how it works!
Q2: Comes from Erica:
What meds is Sherman supposed to take, but clearly forgets to take them everyday?
A2: Sherman is supposed to take Gushers each day. When he neglects to take his Gusher medicine, Sherman gets quite angry without access to his explode-in-your-mouth-with-flavor treat. This was evident in his terrifying interview with Erin Andrews.
While on his Gusher medication:


While off it:
Q3: Also from Miss Erica:
When was the last time each team won the SB?
A3: Broncos - 1999 Seahawks - NEEVVAAHHHHHHHHHH (sad face)
Q4: April asks: I have the hardest time differentiating a "holding" call or a "pass interference" call vs. normal contact. Is there an easy way for spotting them?
A4: Holding is when you
hold
on to the guy's jersey before the ball is thrown. Pass interference is when you clearly are inhibiting the receivers opportunity to catch the ball. You gotta give the guy a chance. If there is contact, and the defender's back is to the ball, it will be pass interference every time. But if there is contact and the defender is facing the ball, trying to catch it, that is just good defense!
Q5: Janna asked me: What is a 2 point conversion?
A5: After a touchdown is scored, the team has the choice to either kick an extra point (this happens 87% of the time, and yes I made that number up) or to go for two points. If they decide to go for 2 points, they'll start just 5 yards away from the end zone. So all they need to do is run for 5 yards, or pass for 5 yards and they get 2 points!
Why would you go for 2? Well, think of it like in Price is Right.
Contestants, how much do you bid for this new bedroom suite?
Sarah: $1900
Jim: $2260
Tony: $1200
Candice: $1901 Bob (or Drew, whatever)
And Sarah is sitting there thinking F$#@ YOU, Candice. F YOU! GO F YOURSELF AND YOUR NEW BEDROOM SUITE.
It is all about strategy, you only go for two when it wouldn't benefit you to just get one point, you gotta have 2 by any means necessary.
Q6: Comes from Michael: How do I get rid of Erin Andrews and/or Pam Oliver and take their job?
A6: You call your friend Sarah, we split the cost of a hit man, maybe find a guy that has a 2-for-1 special going on. Then blackmail the producers into giving us the job. That was just an idea, of course.
Q7: Carissa asks: How many types of "backers" are there? Or is there only one, and different teams make up different names for "backers" depending on what schemes they run? For example: I thought you could only be a linebacker, but I've heard the term Devilbacker, SAMbacker, Spur linebacker, Will backer...and so on and so forth.
A7: Well, there are
backs
like half, and tail, and full, and nickel, and dime, and slot.... but specific backers, like you listed, are types of linebackers. Like strong side and weak side and to all of that I say:
Q8: Miss Meghan asks: How do they decide where the Super Bowl is held each year?
A8: The location is usually picked 3-4 years in advance. Cities actually bid to host the Super Bowl. The selection committee then makes a decision based on the cities ability to host (i.e. can the city handle such a huge event), how nice the stadium is and up until this year it was assumed it would be in a dome or in a warm city!
Q9: Helene asks: Why are football games so long??
A9: And to that I will come back with another question for you, my dear. Why aren't games longer?
But in all actuality, they are long because you are playing so many fewer games in a season, than every other sport. I mean, baseball games take 2 hours and you play a million of those a year. Three hours, 21(ish) times per year is nothing!
Q10: Nicole asked me: Is Richard Sherman the best? And should or should I not talk about him?
A10: So, this is a touchy question. While yes, he is the best, I would advise that you should only talk about him if you can do it without opening your mouth. Soooo, like if you do a ventriloquist act, it is ok. But other than that, I would urge you to avoid discussing the level of his athleticism at all costs. Jim Harbaugh mentioned, via opening his mouth, the level of Sherman's talent.... then he got butt slapped.

Heard this song on the Beats by Dre commercial and now I can't stop, won't stop.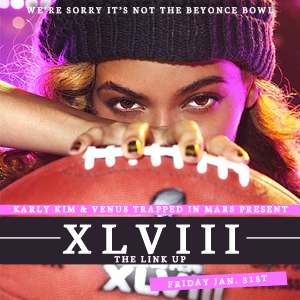 Why you like football more than your man?
Tell us why you hate / love / why you're mad your team didn't make it this year.
Which do you like more: the game or the commercials?
Do you secretly wish you were an NFL star?
Do you love Tom Brady?
Who should be MVP in your book?
Guess the final score of the Super Bowl and we'll send you a virtual high five
Super Bowl Drinks
Super Bowl Foods / Dips / Concoctions
Drinking Games
Games to Play During the Super Bowl
Which team's colors you like better (although I'll (Sarah) will be judging you if you do this)
Anything that starts with F and ends with ootball