I have some girlfriends who have never played Fantasy Football before who are going to join my family/friends league this year. I convinced them to play based on the promise that I would help them along the way. I thought I'd take the opportunity to help everyone new to Fantasy Football at the same time, via the world wide internets.
So you've decided to play fantasy football for the very first time ever? There are probably a billion tutorials out there, mostly written by dudes... for dudes. Considering I've built an entire blog based on the fact that a man can't teach a woman a sport as well as another woman could, I thought I'd make my own beginner's guide.
1. Why Play Fantasy Football?
Thursday, Sunday and Monday become absolutely amazing. You have something fun to look forward to every week. It's like having a 4 month long game night with your best friends. Each week, everyone congregates in someone's living room with beers and finger foods, and every single game is important to you.
Why is every game important, you ask? Well let's talk about the basic premise of Fantasy football.
2. What is a Fantasy Football Team?
Your fantasy team is made up of different players from different teams, that you pick in a pre-season draft. Although there are variations, your basic team consists of a Quarterback, 2 Running Backs, A Defense, 3 Wide Receivers, a Tight End, a flex position player, a Kicker, and an assortment of bench players. Be sure to check your league's settings before you draft, in case your breakdown is different.
3. Draft Strategy
While some Fantasy Football league drafts are done in person, most are done at a certain time over the internet. Your league's commissioner will set a draft time, and you need to be sure to be at your computer at this time. The draft order will be determined at random, about 15 minutes before the draft begins.
Say you have 12 people in your league. Whoever is set to draft first has 90 seconds to make their pick, then the second person is on the clock and has 90 seconds, and so on. The person drafting last, in the 12th spot, will make back-to-back picks, and then number 11 will be on the clock for their pick.
If you are more visual, here is what the first round of your 2015 fantasy football draft might look like. As you can see in the highlighted section, the person with pick #12 drafts back-to-back.
You'll want to make picks in order of who you think will get you the most points. As a general rule of thumb, a running back is considered to be your best first draft pick, because they will get you the most possible points.
Here is the order in which I would suggest. This could vary, of course, based on who is/ isn't available at that time. As I mentioned, these are just my personal suggestions. I'm no expert but I do have a blog with no credentials, so that's close enough.
Round 1: Running Back
Round 2: Running Back
Round 3: Quarterback
Round 4: Wide Receiver
Round 5: Wide Receiver
Round 6: RB or WR (whichever has a better option available)
Round 7: Tight End
Round 8: Wide Receiver
Round 9: RB or WR (whichever has a better option available)*
Round 10: Backup QB*
Round 11: RB or WR (whichever has a better option available)*
Round 12: RB or WR (whichever has a better option available)*
Round 13: RB or WR (whichever has a better option available)*
Round 14: Backup TE*
Round 15: Defense
Round 16: Kicker
*Be sure to check the bye week of this player. You'll want to make sure that player has a different bye week than your starters.
For example: say you draft RB Eddie Lacy as your first pick. He has a bye week in week 7, so when you pick your backup players, don't select someone with a week 7 bye. Otherwise, you'll have no one to start that week.
4. Managing Your Team Throughout the Season
You have to remember to update your roster every single week. Your starters may be hurt or on a bye week, so you'll have to switch them for another player. Because I'm a crazy, over-the-top fantasy fanatic, I write reminders in my calendar to check my roster on specific days.
Remember to Edit your roster on the following days.
|| Thursday by 4pm ||
Check to see if you have anyone in the Thursday or Saturday night matchup
Switch Out any Players in those games with injuries
|| Sunday Morning by 11am EST to be safe ||
Check for Players on Bye Week and for any Injuries
|| Tuesday ||
Scan the available players in your league.
Add and drop new players based on breakout performances and expert's analysis.
5. Attend the University of Google
Don't be afraid to use Google. There are thousands of experts giving their fantasy opinions and advice. I like to use specific google searches such as...
"Week 3: Start or Sit? Dez Bryant or Odell Beckham Jr."
This entire website is dedicated to experts placing their vote on who they would start or sit in a specific week.
"Wide Receiver Pickups Week 8"
Players who aren't necessarily fantastic might have an explosive week if they are playing a terrible defense, or a rookie might be getting a chance after an injury to the starter. I managed to pick up Odell Beckham Jr. last year using this strategy. Here's an example article.
"Expert Fantasy Football Tips"
You'll never know what you can find with this google search. For example, here is a great article about a list of big names that this expert thinks you should avoid in 2015.
6. Pick a BOMB Fantasy Team Name
Don't be the generic "S's Spectacular Team" that gets assigned to you when you join a league. Be more creative than that. Here are several lists of team names that I recommend!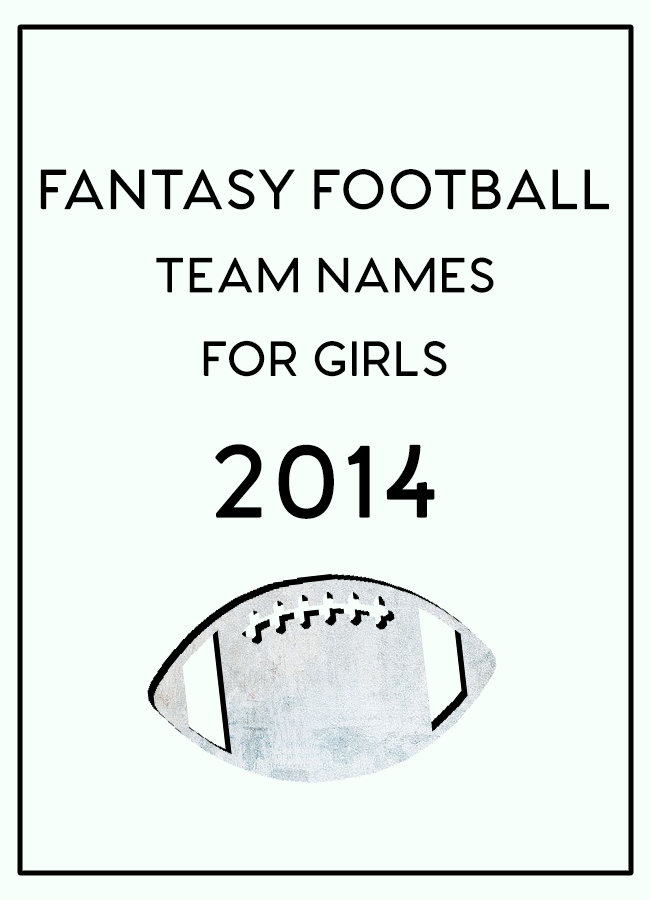 7. Phone a Friend
This will be my 12th season playing Fantasy Football, so I'd like to think I know what I'm talking about. Don't call me because I hate talking on the phone, but shoot me an email or leave a comment if you have any questions.
Want more Fantasy Football Tips?
You might also like...
How I Finally Won a Fantasy Football Game in Five Easy Steps
Pinterest, It's Like Fantasy Football For Girls
A Girl's Guide to the Perfect Fantasy Football Draft