One of my favorite places to go is the casino. Here in Dallas, I have
Winstar World Casino
just a little over an hour away from me! They have everything you could ever need, it is the second largest casino in the world after all! From amazing concerts to a flashy night club, to phenomenal food, to a pool and luxurious spa, you may forget there are actually games to win money on! So when you get up the courage to sit down at your first slot machine, here are some tips from me to you....
1. Bring the amount of cash you are willing to LOSE
Before you head to the casino, run by your bank and withdraw a set amount of cash. Whatever you do, do not go to a casino with $300 in hand and $500 worth of bills you need to pay. If the number you pick is $300, just go ahead and mentally write that $300 off. If you come home with money, that will be delicious icing on the cake. If you lose it all (which you very well might) that is ok too since it was money you already spent.
2. Join the Players Club
Every casino has a player's club. You wouldn't fly an airline without joining their frequent flyer program, you wouldn't stay at a hotel without being part of the loyalty club, you wouldn't go to Kroger without scanning your Kroger card.... so join the player's club. You'd be surprised the kind of perks you receive after just a few visits, like free meals, free hotel stays and free money to play with!
3. Take care of your bartender, then return to the same bartender each time
In most casinos, you DO NOT GET FREE BOOZE. I repeat: YOU DO NOT GET FREE BOOZE. Don't head to the casino thinking you are going to play the penny slots the entire time while a server hands you free vodka sodas.
There are two ways to get drinks at a casino, from a server or from the bartender. The casinos I have gone to rarely have a line for the bar. Stick to one bartender, tip big (30%+), and they'll take care of you the rest of the day/night.
4. Find a game that takes a long time to play
There are many kinds of slot machines. There are the games that sparkle and shine and make lots of loud noises, there are the bright games with flashing lights, there are elaborate games with about 148 different ways to win and there are simple quiet games.
I like to find the games that take a long time to play. For example, at
Winstar
, there is a Family Guy game. Yes, Family Guy is my favorite show ever, and the reason why I initially sat down, but this game takes forever to play. Each time you spin you have the chance to get bonus games and bonus points. The game often shows long video clips as well. The longer you're sitting there, the longer you get to hold on to your money.
5. Find a game with only one payout line
I like the games with just one line to win on. These games are simple to understand, but more importantly, these games control your urge to bet more credits. The more paylines you have, the more money you have to spend each pull.
6. The second you sit down at a machine and put your money in, think of the number you are willing to lose until you get up from that machine.
Let's say I sit down at a slot machine and insert $50. I tell myself, I'm only going to let this machine take $10 of my money before I get up and try a different machine.
You gotta feel the machine! If you aren't feeling it, find a better spot before a dull machine takes all your cashola!
7. Check the credits played by the person before you
For goodness sake, check the number of credits played before you sat down. One time, I sat down at a 25 cent machine. I put my money in, hit the spin button, and all of a sudden I was down $15. One pull, lost me $15. High rollers, NBD. Low rollers, like me though, $15 made me want to cry. The person before me was playing max credits on a machine with a billion pay lines. Whomp whomp whomp.
8. Don't play anything other than slot machines unless you know what you're doing
I don't go anywhere near the table games. Heck, there are some slot machines I don't go anywhere near because I have no idea how to play. Just because you're in a casino and now have a player's club card, doesn't mean you're James Bond.
9. Wear stretchy pants.
Hands down the most important tip.
That's all I've got folks! Linking up with
Whitney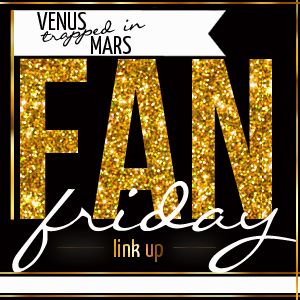 Write a post about anything listed here
Grab a button. (It's glittery, would you have expected anything less?)
Link up EVERY FRIDAY FOR THE REST OF YOUR LIFE
Follow me so we can be friends
Meet new friends who also like sports and being a fan
Hop, hop, hop.... hop around