Why can't guys properly identify girl's clothing??? Why is this so difficult for them? Not everything we wear is a dress. It grinds our gears when you call our skirt a dress. Let me make this easy for you dudes...
A dress is all one piece.
When you have a dress on, you have JUST ONE PIECE OF CLOTHING to put on your body.
Guy Terms: You have just one piece to take off when you go to do what it is you go to do... you know...
Example of dresses:
A skirt is just a bottom. If a girl was just wearing a skirt, and nothing else, she would be naked up top. Skirts are paired with tops. Here are some examples of skirts...
Guy terms: You will have two pieces of clothing to take off when a girl is wearing an outfit with a skirt.
You guys always call all forms of tops, blouses. Why is that? I can almost guarantee that she is not wearing a blouse. Blouses went out in the 80s. Just call it a top. That simple, no matter what kind of shirt she is wearing, a top is sufficient. If you just have to know what an actual blouse looks like, well, here are some examples of blouses:
Good lord guys. If she spends more time than usual getting ready, find SOMETHING to compliment. Otherwise I guarantee she will want to go right back up, change clothes and get ready all over again. Guess who has to keep waiting when that happens. That is right, you!
Examples of compliments
Just some advice, if she has to ask you, "How does this look?"
1. You already screwed up by not saying anything when she walked down the stairs
2. You can redeem yourself by using one of the phrases above
3. If you don't want to get lucky for the next several days, never ever ever reply to that question with, "Fine."
Please direct all questions to the comments box below. I'm here to help, boys.
-----
And last but most certainly not least, I have a one time linkup to announce with my love (and I mean bestie)
Helene in Between
which will take place Wednesday, July 24th!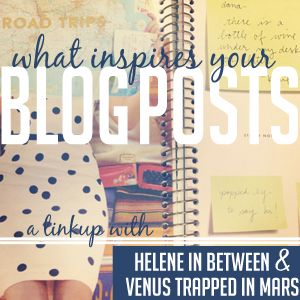 Summer can be a really hard time to find inspiration for blog posts. We want you to linkup and tell us what inspires your posts and ideas, and of course, we will do the same! Where do you find inspiration for for blog material each day? Hopefully this will help everyone come up with new and creative ways to generate new content, even in the tough Summer months where your creativity sometimes turns to mush!
Be there, or be square and without blog post inspiration.